Group Health Insurance, Blue Cross Blue Shield and Florida Blue Insurance Serving Bonita Springs, Bradenton, Fort Myers, Lakeland, Naples, Sarasota, Tampa, FL, and all of West, Central, and Southwest Florida
Good For Employees, Good For Employers
Group Health Insurance from Bay Insurance
Bay Insurance has been helping employers and employees enjoy all the advantages of group health insurance coverage for more than 30 years. We are a leading provider of Group Health Plans and can provide you with a host of benefits not only to employees but also to the employers that provide them.
Why group health insurance makes sense for your company
Cost Savings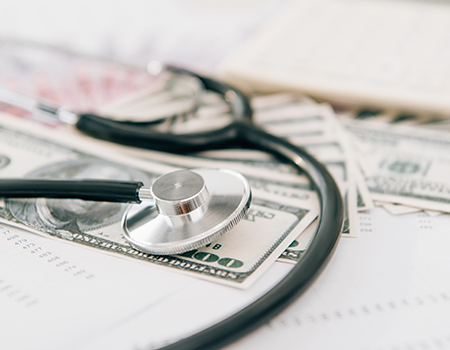 Neither the employee or the employer benefit when insurance premiums are too high. Group Health Insurance not only helps the employee who suddenly discovers they can afford insurance to protect themselves and their family members, but it also benefits the employer who desires to provide this worthwhile protection to their employees.
The Power of Greater Numbers
Rating an individual to determine premiums for health insurance is always a more expensive proposition then rating an entire group. In fact, this principle is fundamental in the practice and application of insurance. The larger the risk pool, the lower the cost for each individual. This results in more options at lower prices than would otherwise be available through individual plans. With a group of health insurance plan, you get:
An offering more comprehensive plans
Lower insurance plan premiums
Tax Benefits
As an employer, you may qualify for a small business health care tax credit when providing health insurance to your employees. When you pay for part of their premiums you may qualify to get a credit back on your taxes as well as additional compensation in the form of reimbursement towards insurance premiums.
If It's Good for Employees, It's Good For Your Business
One of the most difficult tasks that employers face is recruiting and maintaining a quality workforce…and one of their most effective tools is a strong benefits package. It's common knowledge that happy employees are more productive, and survey after survey has shown that Group Health Insurance makes employees happy. In fact, potential employees seeking jobs often consider a strong Group Health Insurance plan a major factor when determining whether or not to accept a position with a new company.
Florida Blue and Bay Insurance
A winning combination for employers and employees
As your local agency for Florida Blue, Bay Insurance offers a host of health plans and programs designed to safeguard the good health of employees and employers throughout Florida. Blue Cross Blue Shield is a staple in quality insurance protection and Bay Insurance is proud to represent the products offered by Florida Blue. These include a wide and affordable range of group health benefit solutions for small businesses:
BluesOptions: Plans address the wide and diverse needs of your employees by delivering a variety of benefit and affordable premium options, such as health savings accounts (HSA) and compatible plans.
BlueCare: Plans give your employees the peace of mind that comes from knowing they're cost up front. These plans provide affordable healthcare choices with predictable co-payments for most medical services.
BlueSelect: Plans offer a wide range of coverage options featuring lower premiums and a community-focused network design for added cost savings.
Your Bay Insurance agent will work with you to determine the best option for your company and your employees.